We are delighted to announce the Master of Ceremonies at the IAA Global Conference.
Andreea Esca
For over 21 years, Andreea Esca has been bringing Romanians the most important national and international updates as anchorwoman of PRO TV News, the most watched news program in Romania. She is one of the most admired and professional journalists in the country, and her passion for this domain drove her to launch an online and print publication (Alist magazine) and produce the radio show "On the Radio" ("La Radio" - Europa FM).
George Buhnici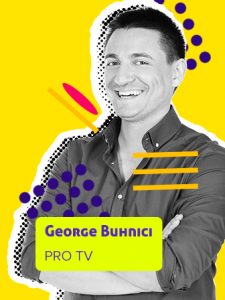 George Buhnici is the leading Romanian voice in technology and his passion for the new and the future breathes in his every project. He hosts iLikeIT, a daily segment on PRO TV News, where he features the most interesting gadgets on the market. iLikeIT is also a weekly TV show leading in the segment since 2011. George is also a digital influencer leading the male segments on the Romanian web with his blog www.buhnici.ro and Cavaleria.ro, a digital lifestyle magazine. His trademarks are the gadget reviews and interviews of interesting people at the steering wheels of the newest cars.
Andi Moisescu
An advertising enthusiast, professional talent searcher and man who makes everybody go Who Knew? on PRO TV, Andi Moisescu has been a media professional for over 20 years and, after all this time, he still says that he's barely started. Since the advertising industry is a generous one, with lots of both good and bad examples, Andi launched and produces Apropo TV, a show about advertising novelties and creative perspectives on day-to-day issues ranging from local to global.